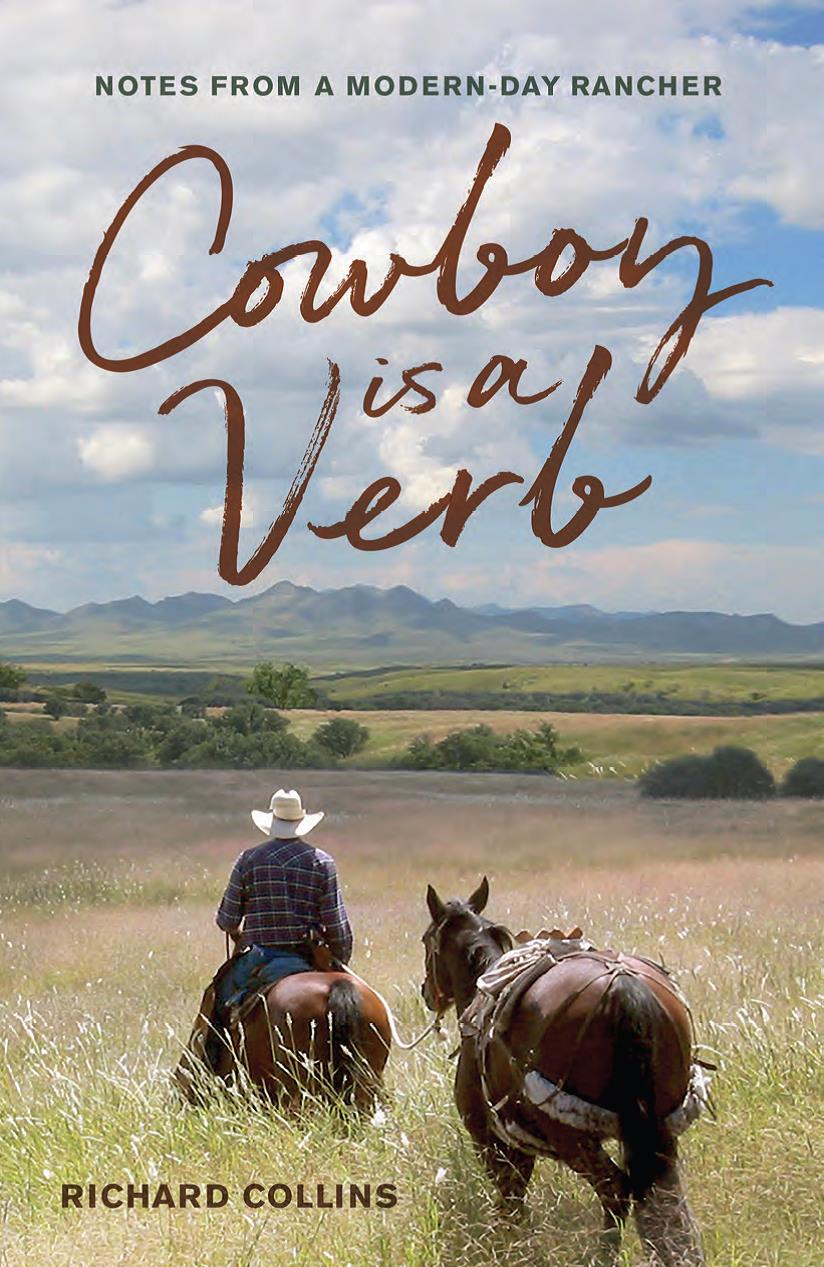 Cowboy is a VerbNotes from a Modern-day Rancher$21.95
Author:
Richard Collins
Format: Paper
Pages: 312
ISBN: 9781948908238
Published Date: 2019
From the big picture to the smallest detail, Richard Collins fashions a rousing memoir about the modern-day lives of cowboys and ranchers. However, Cowboy is a Verb is much more than wild horse rides and cattle chases. While Collins recounts stories of quirky ranch horses, cranky cow critters, cow dogs, and the people who use and care for them, he also paints a rural West struggling to survive the onslaught of relentless suburbanization.

A born storyteller with a flair for words, Collins breathes life into the geology, history, and interdependency of land, water, and native and introduced plants and animals. He conjures indelible portraits of the hardworking, dedicated people he comes to know. With both humor and humility, he recounts the day-to-day challenges of ranch life such as how to build a productive herd, distribute your cattle evenly across a rough and rocky landscape, and establish a grazing system that allows pastures enough time to recover. He also intimately recounts a battle over the endangered Gila topminnow and how he and his neighbors worked with university range scientists, forest service conservationists, and funding agencies to improve their ranches as well as the ecological health of the Redrock Canyon watershed.

Ranchers who want to stay in the game don't dominate the landscape; instead, they have to continually study the land and the animals it supports. Collins is a keen observer of both. He demonstrates that patience, resilience, and a common-sense approach to conservation and range management are what counts, combined with an enduring affection for nature, its animals, and the land. Cowboy is a Verb is not a romanticized story of cowboy life on the range, rather it is a complex story of the complicated work involved with being a rancher in the twenty-first-century West.
Author Bio
Richard C. Collins is a rancher, writer, horseman, conservationist, and scholar who has owned and operated farms and ranches on the borderlands in Southern Arizona since 1983. His essays have appeared in numerous publications, including National Geographic Traveler, Science & Spirit, and SNReview magazines. 
 
Reviews
Collins seamlessly weaves a memoir about how he learned to ranch in southeastern Arizona with astute commentaries about the challenges of doing so in a land where most of his neighbors were exurbanites and a small endangered minnow caused more problems than the drug runners trekking through his mountain pastures.
Tom Sheridan, Professor of Anthropology, University of Arizona and author of Stitching the West Back Together
I do think this book may become a classic and sit alongside other memorable books on ranching culture.
Richard L. Knight, Colorado State University
There is something special about being able to live and work in a landscape over many years. Each year offers a greater understanding of place and your place in it. Richard Collins shines when he is describing his beloved high desert grasslands and the people and creatures who occupy it.
Ross Humphreys, San Rafael Ranch
Collins is not only a fine storyteller, but there are generosity and exuberance in his writing and thinking that I hope will spread like wildfire to renew the many landscapes and cultures of the American West.
Gary Paul Nabhan, author, Food from the Radical Center: Healing Our Lands and Communities
Collins' descriptions of abundant wildlife, expansive scenic views and especially the watershed that divides his ranch from north to south, all attest to his deep connection to the property that he has explored, inch by inch, on horseback… The efforts of a hands-on working rancher to sustain the viability of the land he so loves makes it likely that cowboy truly is a verb.
Betty Barr, historian and author of Hidden Treasures of Santa Cruz County
The best description of ranching in southeast Arizona that I have yet run across.
 
Bill McDonald
Cowboy is a Verb should be read by every rancher, agency member, or any folks that just love open spaces. Using local examples to illustrate his points, Richard shows the need to add a powerful; 4th "C" to the 3 C's successful ranching. Cowboys, Cattle, and Cow Dogs- make room for Cooperation.  Anyone with feelings about the west will find things they like and things they wish Richard hadn't bought up in this book. That is the surest was to know he has written the truth about a subject that he knows and cares deeply about.