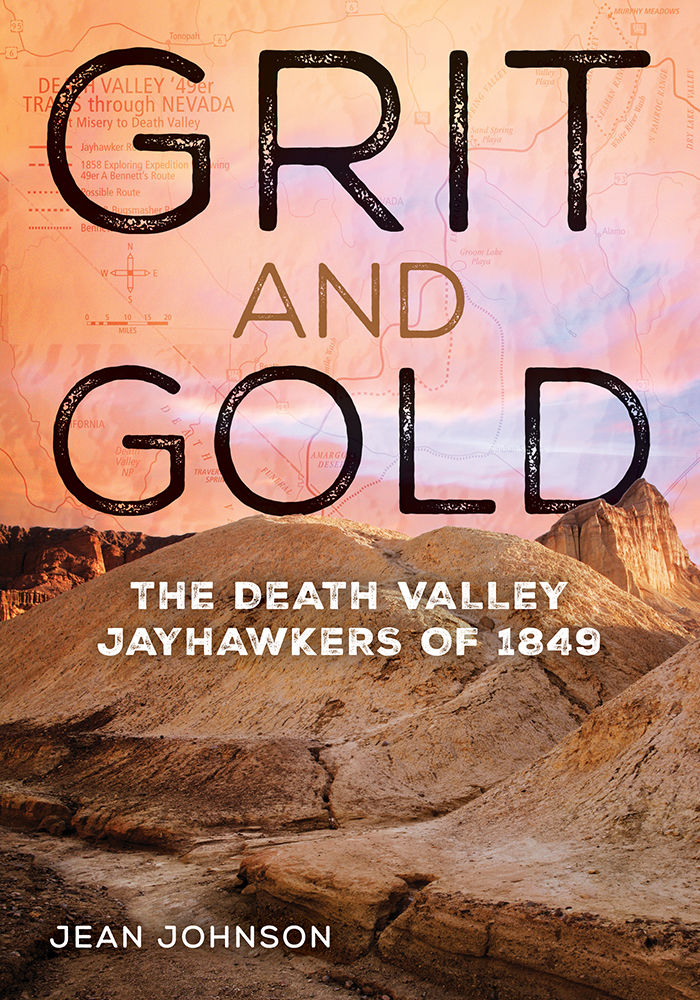 Grit and GoldThe Death Valley Jayhawkers of 1849$34.95
Author:
Jean Johnson
Format: Cloth
Pages: 288
ISBN: 9781943859771
Published Date: 2018
No other Western settlement story is more famous than the Donner Party's ill-fated journey through the Sierra Nevada Mountains. But a few years later and several hundred miles south, another group faced a similar situation just as perilous. Scrupulously researched and documented, Grit and Gold tells the story of the Death Valley Jayhawkers of 1849 and the young men who traveled by wagon and foot from Iowa to the California gold rush.  The Jayhawkers' journey took them through the then uncharted and unnamed hottest, driest, lowest spot in the continent—now aptly known as Death Valley.

After leaving Salt Lake City to break a road south to the Pacific Coast that would eliminate crossing the snowy Sierra Nevada, the party veered off the Old Spanish Trail in southern Utah to follow a mountaineer's map portraying a bogus trail that claimed to cut months and hundreds of miles off their route to the gold country. With winter coming, however, they found themselves hopelessly lost in the mountains and dry valleys of southern Nevada and California.  Abandoning everything but the shirts on their backs and the few oxen that became their pitiful meals, they turned their dreams of gold to hopes of survival.

Utilizing William Lorton's 1849 diary of the trek from Illinois to southern Utah, the reminiscences of the Jayhawkers themselves, the keen memory of famed pioneer William Lewis Manly, and the almost daily diary of Sheldon Young, Johnson paints a lively but accurate portrait of guts, grit, and determination.
Author Bio
Jean Johnson is the co-author of several books, including Escape from Death Valley. She has spent more than forty years researching the history of Death Valley National Park and served on the board of Directors of the Death Valley '49ers Inc.
Reviews