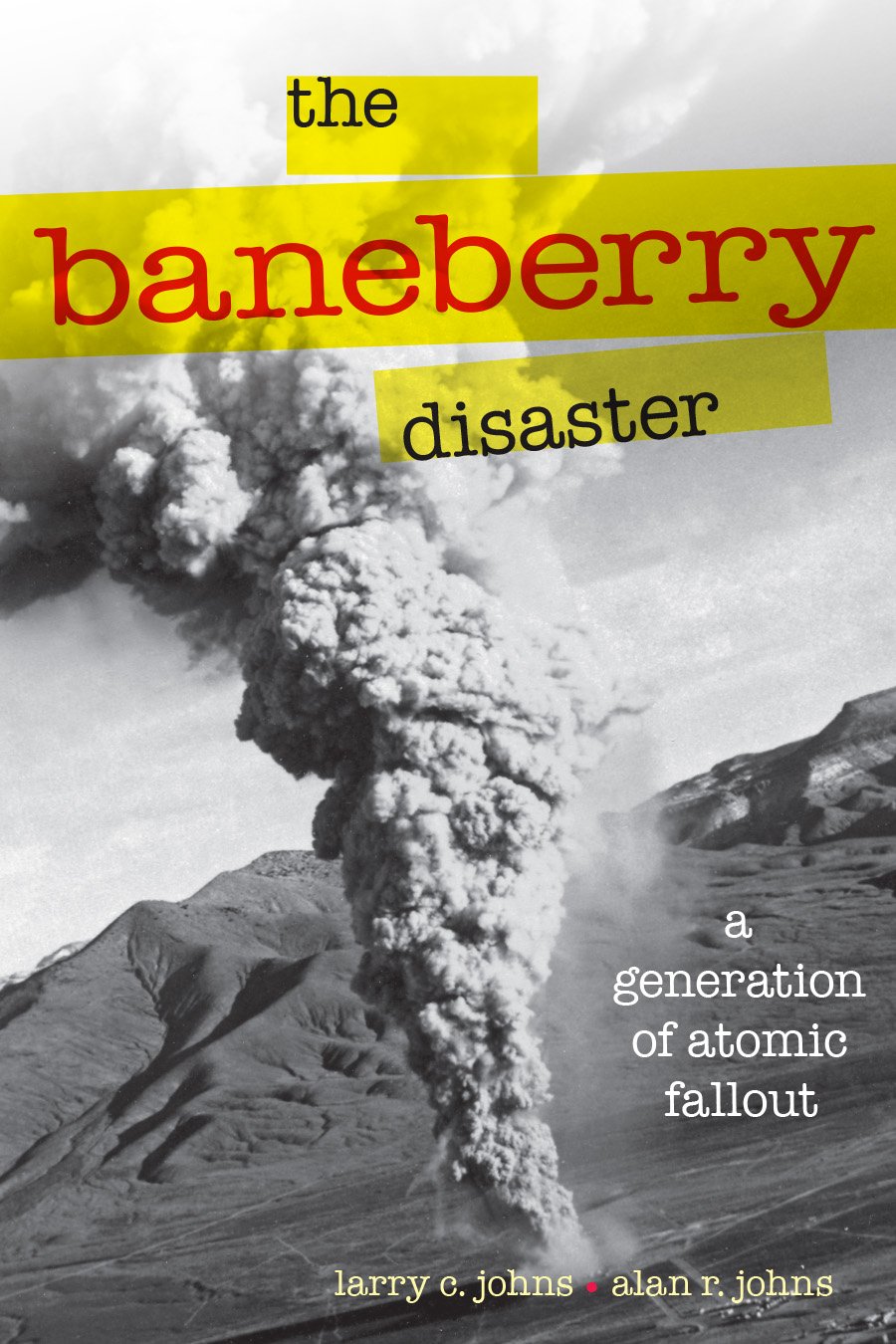 Baneberry DisasterA Generation of Atomic Fallout$24.95
Author:
Larry C. Johns
Format: Paper
Pages: 224
ISBN: 9781943859450
Published Date: 2017
The Baneberry Disaster covers the calamitous December 1970 Baneberry underground nuclear test that pumped nearly 7 million curies of radiation into the atmosphere, caused the suspension of nuclear testing at the Nevada Test Site for six months, and whose radioactive cloud exposed 86 test-site workers to radiation, two of whom died of leukemia less than four years later.
 
The authors are attorneys from Las Vegas who spent 25 years pursuing a lawsuit for the victims at Baneberry. The story begins in 1971, just after the Baneberry test vented, and takes the reader through the years leading up to the trial, the 41-day trial in 1979, and the multiple appeals following the trial. It discusses the claims and lawsuits filed by others exposed to atomic testing, and the congressional investigations that led to the enactment of the Radiation Exposure Compensation Act in 1990.
Author Bio
Larry C. Johns holds a Juris Doctor Degree from the University of Arizona. He was admitted into the Nevada Bar Association in 1968. In 1993, he was selected to membership in the Nevada American Inns of Court, Lloyd D. George Chapter, and remained active until 2005. He married Mary Pratt, and they have four children, Charles, Laura, Julianna, and Jason, and 7 grandchildren.

Alan R. Johns holds a Juris Doctor Degree from University of Colorado. He was admitted into the Nevada Bar Association in 1963. From 1998 to present, he has served as an Arbitrator and Short Trial Judge in over 100 cases and maintains his private law practice. He married Loretta Jung, and they have three sons, Tris, Greg, and Brian, and 8 grandchildren.
Reviews
"Larry and Alan Johns' The Baneberry Disaster is a gripping and timely account of an American nuclear episode that is long overdue for closer examination.​" 
—Environmental History
 
"The Baneberry saga is a story that should be told, and Mr. Johns is the one to tell it."
—A. Costandina Titus, congresswoman and author of Bombs in the Backyard: Atomic Testing and American Politics
 
"The Baneberry Disaster is a compelling recollection of the causes and human consequences of the failure of the underground Baneberry test in December 1970. Its focus is the resulting decades-long search for justice by lawyer brothers in Las Vegas who investigated the accident and pursued the case on behalf of the widows of two men who succumbed to leukemia after being caught in Baneberry's radioactive cloud. Johns gives readers an interesting inside-the-courtroom perspective that reveals the dilemmas of private attorneys who found themselves outmatched in terms of resources and in access to critical information about the incident."
—Mary D. Wammack, University of Nevada, Las Vegas


 
"This book is a remarkable achievement in perseverance by the authors trying to gain justice for two individuals who were exposed to radiation released from the underground nuclear test, Baneberry. Harley Roberts and Bill Nunamaker were exposed when Baneberry was detonated and then vented through a fissure spewing a column of radioactive dust, smoke, and particulates into the atmosphere. Mr. Roberts rushed to clear the area of personnel and during that time was exposed by inhaling the vented radioactive dust and smoke, and from particulates on his skin and clothes. Mr. Nunamaker was also exposed during the evacuation from the site. Later both men died of acute myelocytic leukemia.

Mr. and Mrs. Roberts first contacted Larry Johns to compensation his medical expenses, but Mr. Nunamaker case was not found until after he had died and added to the Johns' efforts much later and in part that's what makes this historical story so fascinating. It's their attempt to collect the exposure, medical, and scientific data to support the negligence case for these men and their families. The government lawyers were equally determined to prevent any determination of wrong doing by either the government agencies or the nuclear site operating contractors. In many ways, the legal and scientific testimony and diverging opinions are among the more concerning parts of this saga. The more disconcerting part is well summed up by the authors in the chapter title Justice Delayed is Justice Denied, and by the judge's rulings. Neither the Roberts nor the Nunamakers received compensation and they and their spouses had died before the Radiation Exposure Compensation Act (1990) or the Energy Employees Occupational Illness Compensation Program Act (2000) was passed.

This book is a fascinating review of both the unintended consequences of atmospheric and underground nuclear testing resulting in workers exposures when plans and safety measures go awry. The attorneys, Larry and Alan Johns have written a well-documented and thoughtful book about their experiences. The book should be on the reading list of nuclear testing historians, students, scientists, environmentalists, and educators. The Baneberry Disaster is readable, fascinating, and at times disconcerting."
—Glyn G. Caldwell, MS, MD