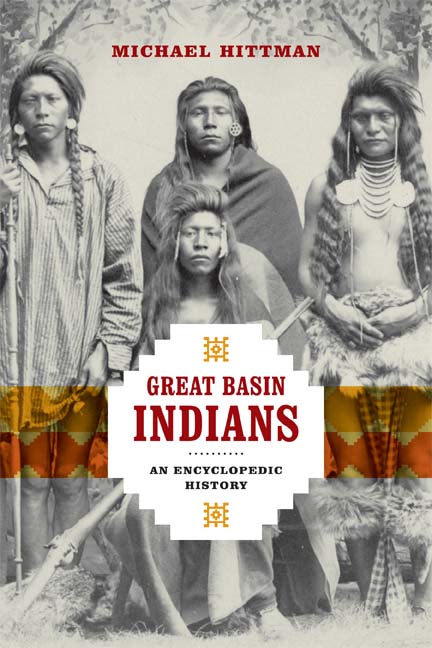 Great Basin IndiansAn Encyclopedic History$65.00
Author:
Michael Hittman
Format: Cloth
Pages: 512
ISBN: 9780874179095
Published Date: 2013
The Native American inhabitants of North America's Great Basin have a long, eventful history and rich cultures. Great Basin Indians: An Encyclopedic History covers all aspects of their world. The book is organized in an encyclopedic format to allow full discussion of many diverse topics, including geography, religion, significant individuals, the impact of Euro-American settlement, wars, tribes and intertribal relations, reservations, federal policies regarding Native Americans, scholarly theories regarding their prehistory, and others. Author Michael Hittman employs a vast range of archival and secondary sources as well as interviews, and he addresses the fruits of such recent methodologies as DNA analysis and gender studies that offer new insights into the lives and history of these enduring inhabitants of one of North America's most challenging environments.

Great Basin Indians is an essential resource for any reader interested in the Native peoples of the American West and in western history in general.  
Author Bio
Michael Hittman is a professor of anthropology at Long Island University, specializing in Native American cultures. His other books include Wovoka and the Ghost Dance, Corbett Mack: The Life of a Northern Paiute, and Ghost Dances, Disillusionment, and Opiate Addiction: An Ethnohistory of Smith and Mason Valley Paiutes. 
Reviews
"An absolute "must-have" for public and college library Native American Studies shelves!"—The Midwest Book Review
The Midwest Book Review
"His (Hittman's) success is that he has presented a great deal of information in a book that is accessible. . ."—Nevada in the West
Nevada in the West