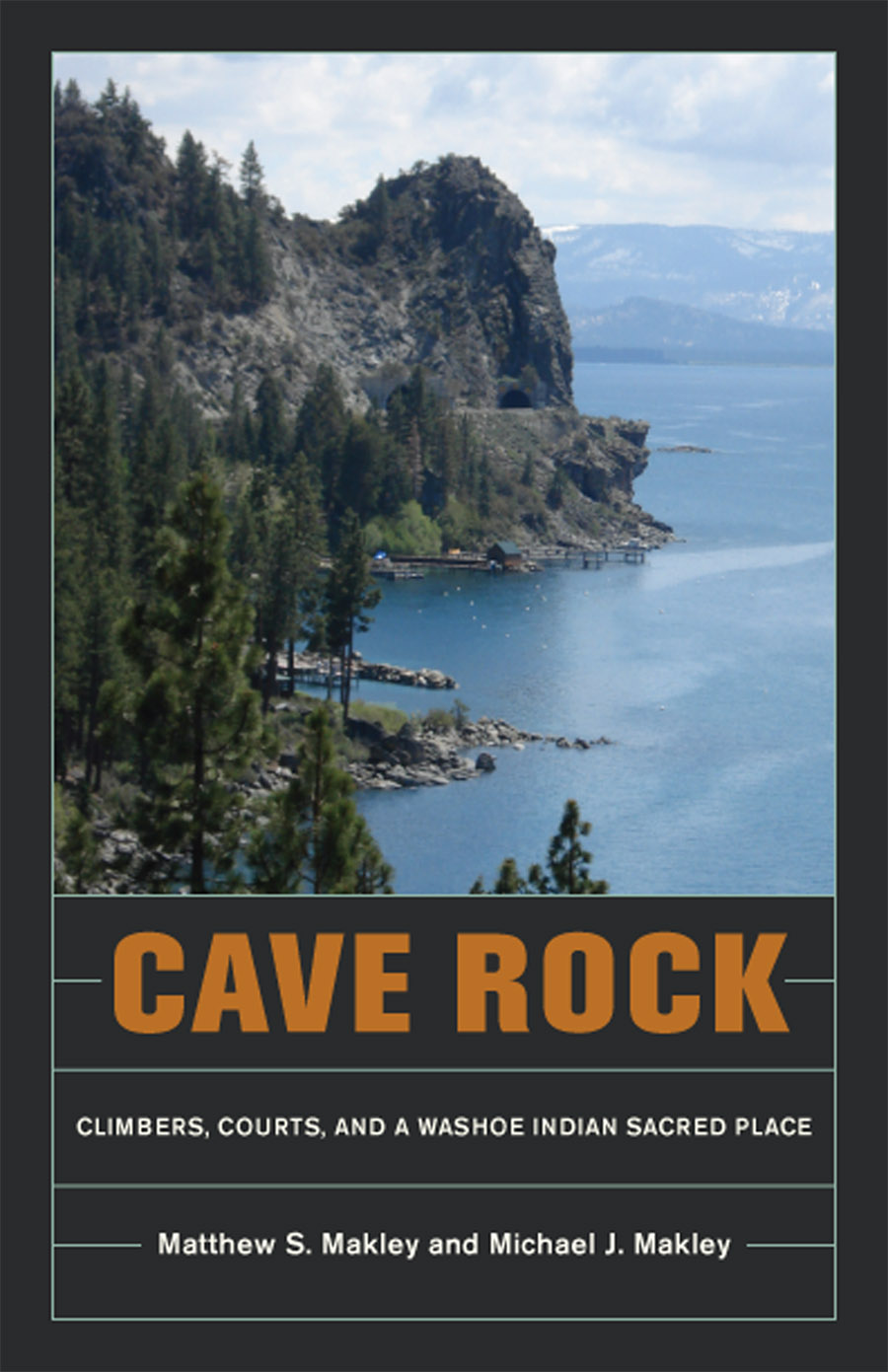 Cave RockClimbers, Courts, and a Washoe Indian Sacred Place$24.95
Author:
Michael J. Makley
Author:
Michael J. Makley
Format: Paper
Pages: 160
ISBN: 9780874178272
Published Date: 2010
On August 27, 2007, the U.S. Ninth Circuit Court of Appeals upheld an earlier district court ruling that sport climbing on a Washoe Indian sacred site in western Nevada must cease. Cave Rock, a towering monolith jutting over the shore of Lake Tahoe, has been sacred to the Washoe people for over five thousand years. Long abused by road builders and vandals, it earned new fame in the late twentieth century as a world-class sport rock-climbing site. Over twenty years of bitter disputes and confrontation between the Washoe and the climbers ensued. The Washoe are a small community of fewer than 2,000 members; the climbers were backed by a national advocacy and lobbying group and over a hundred powerful corporations. Cave Rock follows the history of the fight between these two groups and examines the legal challenges and administrative actions that ultimately resulted in a climbing ban. After over two centuries of judicial decisions allowing federal control, economic development, or public interests to outweigh Indian claims to their sacred places, the Court's ruling was both unprecedented and highly significant. As the authors conclude, the long-term implications of the ruling for the protection of Native rights are of equal consequence.
Author Bio
Matthew S. Makley is assistant professor of history at Metropolitan State College in Denver.

Michael J. Makley is the author of several studies of Nevada history, including The Infamous King of the Comstock: William Sharon and the Gilded Age in the West and John Mackay: Silver King in the Gilded Age, and coauthor of Cave Rock: Climbers, Courts, and a Washoe Indian Sacred Place, all from the University of Nevada Press. He lives in the eastern Sierra Nevada.
Reviews
"Danger, ancient legends, and a legal fight for the sacred. This powerful book . . . is a balanced account of the legal struggle over an important historic site." -- Donald L. Fixico, author of American Indians in a Modern World
"Cave Rock should be on the reading list of all Lake Tahoe scholars and lovers." - Nevada in the West
"Though a slim volume, it packs a powerful wallop in its balanced depiction of this struggle." -- Environmental History