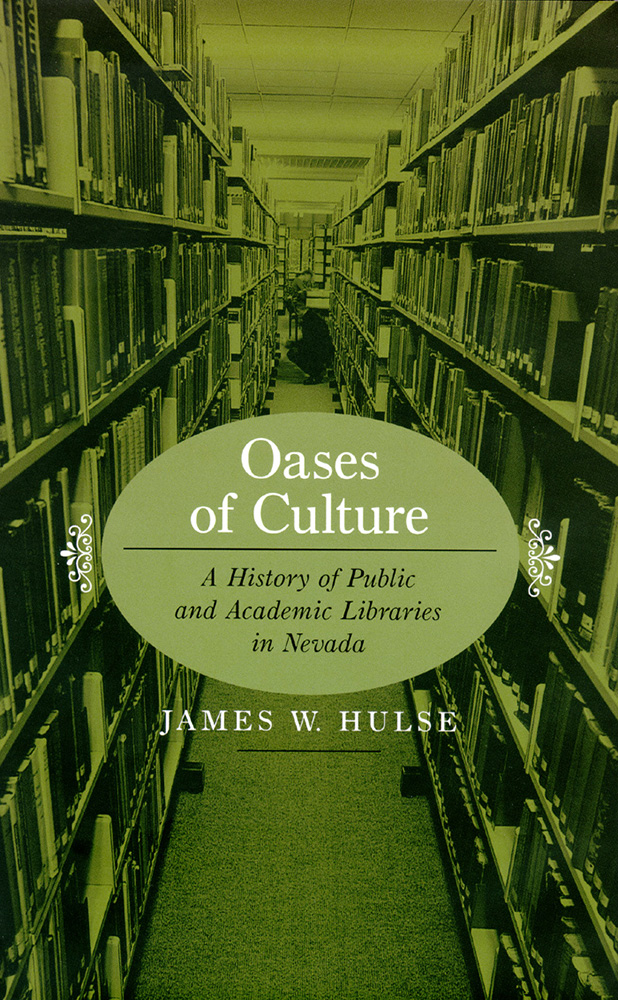 Oases Of CultureA History Of Public And Academic Libraries In Nevada$24.95
Author:
James W. Hulse
Format: Cloth
Pages: 184
ISBN: 9780874175448
Published Date: 2003
The cultural and intellectual history of the Silver State is examined through the creation of its libraries. In Oases of Culture, veteran Nevada historian James W. Hulse recounts the tortuous and often colorful history of Nevada's libraries and the work of the dedicated librarians, educators, civic leaders, women's organizations, philanthropists, and politicians who struggled to make the democratic vision of free libraries available to all Nevadans. From the establishment of the State Library in 1865, only one year after statehood, through the creation of tax-supported public libraries after passage of a library law in 1895, to the development of today's modern university and community college libraries and the public-library information services that serve Nevada's booming and increasingly diverse population, Hulse recounts the trials and triumphs of Nevada's libraries. He also examines the role of Nevada librarians in fostering literacy and confronting the First Amendment controversies that have periodically shaken the nation's cultural foundations.
Author Bio
A native of Pioche, Nevada, James W. Hulse is professor emeritus of history at the University of Nevada, Reno. He is the author of eight books.
Reviews
"The work is a highly readable, chronological narrative . . . a story of struggle and perseverance, of inadequate funding and facilities, and of playing catch-up with the rest of the country. . . . The work is a good introduction to the topic and a welcome addition to the literature." —David M. Hovde, Libraries & Culture 40.1