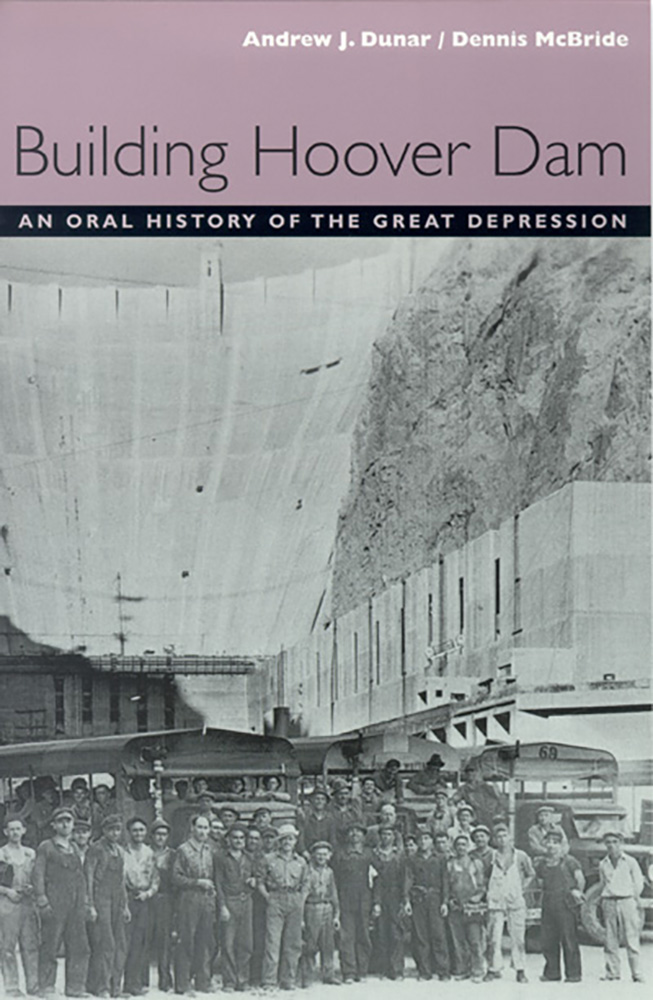 Building Hoover DamAn Oral History Of The Great Depression$24.95
Author:
Andrew J. Dunar
Author:
Dennis Mcbride
Format: Paper
Pages: 376
ISBN: 9780874174892
Published Date: 2001
Andrew J. Dunar and Dennis McBride skillfully interweave eyewitness accounts of the building of Hoover Dam. These stories create the richest existing portrait of the building of Hoover Dam and its tremendous effect on the lives of those involved in its creation: the gritty, sometimes grisly realities of living in cardboard boxes and tents during several of the hottest Southern Nevada summers on record; the fearsome carbon monoxide deaths of tunnel builders who, it was claimed, had died of "pneumonia"; the uproarious life of nearby Las Vegas versus the tightly controlled existence of the workers in the built-overnight confines of Boulder City; and of course the astounding accomplishment of building the Dam itself and completing the task not only early but under budget!
Author Bio
Andrew J. Dunar is a professor of history and chair of the department of history at the University of Alabama at Huntsville. He has published several books on history and politics, and he won the History Book Award from the American Institute of Aeronautics and Astronautics (AIAA) in 2000.
 Dennis McBride is a long-term researcher, archivist, and writer about Southern Nevada. He founded the research facility at the Boulder City/Hoover Dam Museum, and is currently curator of history and collections for the Nevada State Museum, Las Vegas.
Reviews
"We are reminded that the 'anonymous' workers who build massive structures are, in fact, neither nameless nor faceless." —The Journal of American History
"The modern age exalts the environment at the expense of manmade structures. But Hoover Dam endures as a monument to human ingenuity and to an earlier generation's faith in the fundamental goodness of America's technological civilization. This book is a stirring account of one of that generation's proudest achievements." —Western Historical Quarterly
"In recent times, as this book so ably proves, oral history has provided a means through which to place the voices of the builders of this century onto the pages of history. . . . The vivid memories help to develop an empathy that could not have come from the most skillfully crafted prose." —Choice
". . . The interview process at once validated and challenged several key tenets of scholarship in the past thirty years: giving voice to the voiceless, focusing on 'micro-history' to elucidate larger themes and concepts, and searching for examples of 'conquest' to debunk their heroic qualities in favor of more sobering assessments about the American West. . . . The voices of the builders of 'the father of all dams' add depth to the new narrative of life in the American West." —New Mexico Historical Review