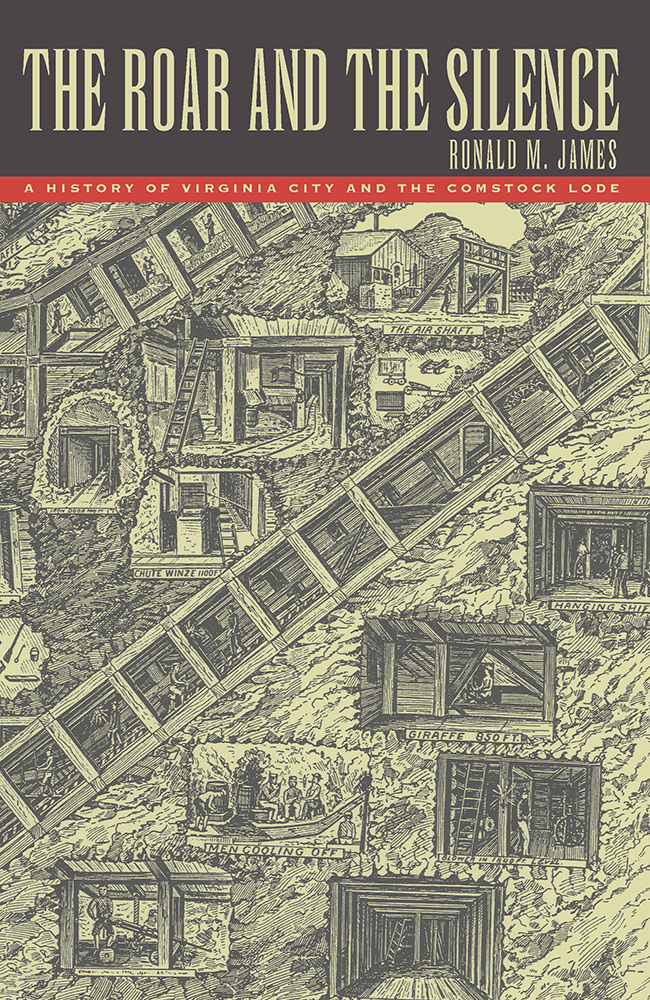 Roar and the SilenceA History of Virginia City and the Comstock Lode$29.95
Author:
Ronald M. James
Format: Paper
Pages: 384
ISBN: 9780874173208
Published Date: 1998
Nevada's Comstock Mining District has been the focus of legend since it first burst into international prominence in the late 1850s, and its principal settlement, Virginia City, endures in the popular mind as the West's quintessential mining camp. But the authentic history of the Comstock is far more complex and interesting than its colorful image. Contrary to legend, Virginia City spent only its first few years as a ramshackle mining camp. The mining boom quickly turned it into a thriving urban center, at its peak one of the largest cities west of the Mississippi, replete with most of the amenities of any large city of its time.
The lure of the area's fabulous wealth attracted a remarkably heterogenous population from around the world and offered employment to dozens of trades and thousands of people, both men and women, representing every one of the region's diverse ethnic groups.
Ronald James's brilliant account of the Comstock's long and eventful history—the first comprehensive study of the subject in over a century—examines every aspect of the region and employs information gleaned from hundreds of written sources, interviews, archeological research, computer analysis, folklore, gender studies, physical geography, and architectural and art history, as well as over fifty rare photographs, many of them previously unpublished.
Author Bio
Ronald M. Jamesis the author or co-author of ten books, and he received the Wilbur S. Shepperson Humanities Book Award in 1998. His articles on history, folklore, and archaeology have appeared in six countries, and he has lectured on western history throughout the nation. James also lectures occasionally at the University of Nevada, Reno in history and folklore. He is the chairman of the National Historic Landmarks Committee for the National Park Service, and he served as Nevada's State Historic Preservation Officer for three decades.
Reviews
"James offers a comprehensive history of the Comstock and its urban center, Virginia City, that will remain the scholarly reference of choice for a long time to come." —The Journal of American History
"As important as the Comstock was, and considering the vast amount of scholarship which the district has produced, it is surprising that no comprehensive study has been written since the heyday of mining. Ronald James has now produced this welcome synthesis of the Lode.. . . . Accessible and entertaining with many helpful illustrations and graphs, this well-constructed volume should stand as the definitive history of the Comstock Lode." —New Mexico Historical Review
"One of the outstanding features of this study is its interdisciplinary approach. James draws from folklore and archeology to reveal some of Virginia City's secrets lost to the written word. He makes good use of those best friends of the nineteenth century urban historian, the Sanborn maps, and census data to discuss the composition and functions of Virginia City's neighborhoods." —Annals of Wyoming: The Wyoming History Journal
"This is an admirable book. Ron James has brought together all of the existing literature on the history of Virginia City and the mines and miners of the Comstock Lode, dissected and extended it from his own research, and produced what must now be regarded as the definitive volume on the history of the district which briefly made Nevada the mining capital of the world." —Mining History Journal