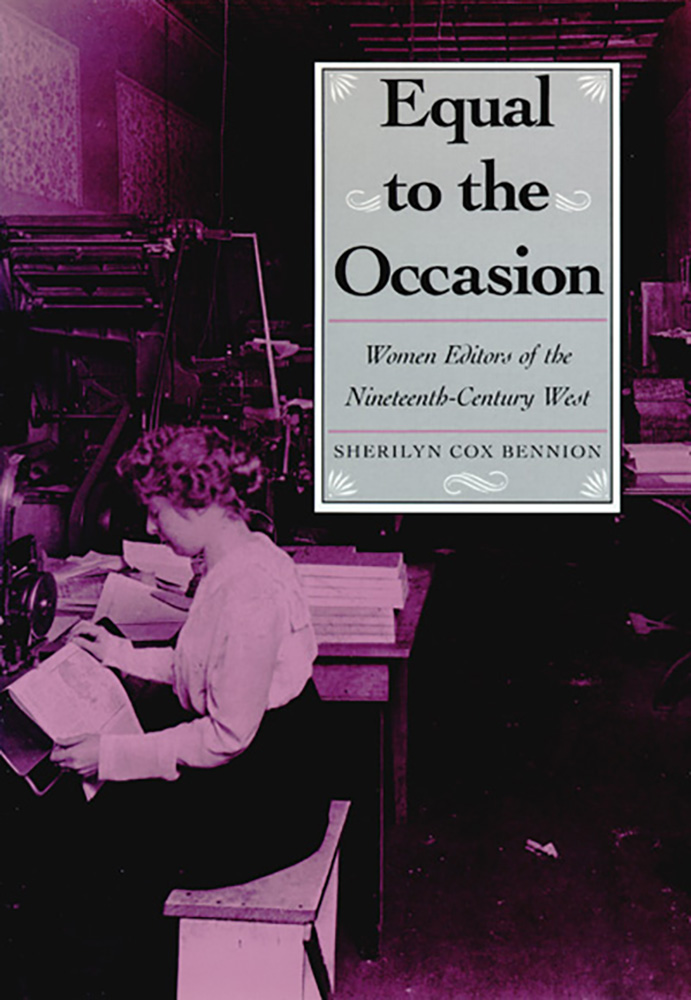 Equal To The OccasionWomen Editors On The Nineteenth-Century West$24.95
Author:
Sherilyn Cox Bennion
Format: Cloth
Pages: 248
ISBN: 9780874171631
Published Date: 1990
Bennion provides in-depth portraits of nineteenth-century women editors of the West and their diverse publications. The book's title takes its name from an 1898 editorial in the Wasatch Wave which described Piute Pioneer editor Candace Alice De Witt as a "maiden fair, fully equal to the occasion."Equal to the Occasion delves into the lives, publications, and historical contexts in which approximately thirty-five female editors of newspapers and other periodicals worked in the nineteenth-century West. The book covers the period from 1854, when the West's first woman editor began her work, through the turn of the century; it includes research gathered from thirteen western states. With its in-depth portraits of pioneering women editors and its appendix listing more than two hundred women and the major repositories where their extant publications are kept, Equal to the Occasion rescues from obscurity a whole panoply of nineteenth-century western women.
Author Bio
Sherilyn Cox Bennion received her PhD in Mass Communications from Syracuse University, and currently is professor emeritus of journalism and mass communication at Humboldt State University. In addition to Equal to the Occasion, she has authored numerous articles and book reviews.
Reviews
"Nowhere else is there such a complete listing of women's contributions to frontier journalism. Bennion has made an impressive contribution to our understanding not only of frontier journalism, but also of social and women's history. In drawing together biographical information about these diverse editors and their publications, Bennion weaves some colorful new threads into the known fabric of western history. . . . A mammoth accomplishment." —William E. Huntzicker, University of Minnesota
 
"A broad spectrum of women's interests, causes, and ways of life are enumerated here, and Bennion's focus on editing as a (sometimes) financially and (usually) intellectually rewarding occupation illuminates the often neglected topic of working women's lives in the nineteenth-century West. . . . In addition to writing a solid history, Bennion conveys an affection for her subjects and sympathy for the often odd circumstances under which they pioneered a new forum for women writers in the West." —Jennifer L. Jenkins
 
"Bennion has performed a tremendous service here to the scholars who will follow. She defines the terrain and points the way. She leaves behind a detailed map for others, not the least of which is a painstakingly researched appendix with the names of hundreds of western women editors, their publications, and the repositories where these can be found." —Lauren Kessler, Oregon Historical Quarterly, Fall 1991
 
"A pathbreaking book . . ." —G. Thomas Edwards, New Mexico Historical Review, January 1993
 
"An embarrassing duty of our time is to find and restore to their place women of achievement who were ignored by most of the men who wrote western history. Sherilyn Cox Bennion . . . takes the duty seriously in this study of the overlooked women editors and publishers of newspapers and magazines in the 19th-century West. —Roger Simpson, Pacific Northwest Quarterly, January 1993